A Pie-oneering beer that's a crust above the rest
GENeco collaborate with Pieminister and Tapestry Brewery to create a carbon neutral beer using pie pastry off-cuts, called, The Pie-oneer.
It started with the idea to push the boundaries and redefine what people class as waste. GENeco have been turning Bristol's waste products into everyday resources for over a decade and this experiment was a natural step to join Bristol businesses, Pieminister and Tapestry Brewery, and raise the bar in terms of sustainability by brewing with unavoidable waste.
This limited-edition pale ale is brewed using British hops and Pieminister's signature plant-based pastry using water-efficient methods (Tapestry recycles and reuses water within the brewery). Pie-oneer is a light and refreshing beer with subtle undertones of golden, crisp pastry. Unfiltered and unfined its 100% vegan with a naturally hazy appearance.
We have helped to remove the carbon associated with beer production by using renewable energy produced by recycling inedible food and sewage waste at our Bristol Bioresources and Energy Park and we transported the beer to Pieminister's Bristol restaurants using our zero-emission fleet.
It's not the first time we've teamed up with Pieminister to get creative with food waste and help them achieve their sustainability goals. GENeco's Bio-Bees have been collecting unavoidable food waste from the Bristol Kitchens for more than five years. At our anaerobic digestion plant, it's used to produce renewable energy, sustainable transport fuel and nutrient rich biofertilisers. To divert Pieminister's vegan pastry off-cuts to Tapestry's brewery instead has proved to be an innovative way to make good use of waste and demonstrate that great tasting products can be made from the discards.
Richard McCluskey, Head of Waste & Resources at GENeco, said, 'Pie-oneer is all about showcasing waste as a resource in a fun and innovative way whilst raising awareness of food waste. More than anything, it represents the collaboration we believe is required between businesses and organisations with shared sustainability values to reduce their impact on the environment and help achieve net zero climate goals.'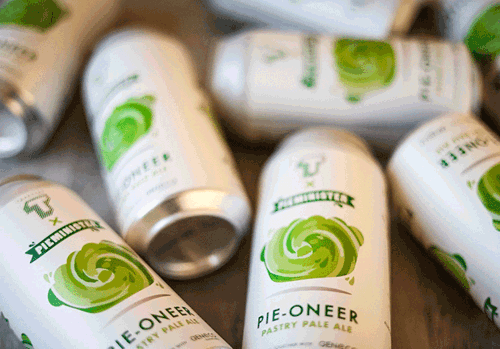 You will be able to find Pie-oneer at Pieminister's Broad Quay and Stokes Croft pie places in Bristol now! The best bit is 10p per beer sold will go direct to Bristol-based charity Props, which supports adults with learning difficulties achieve their full potential.